Southwest Denver Metro?s Newest Master-Planned Community
Sterling Ranch is a Master-Planned Community located between Chatfield State Park and Roxborough State Park just south of C470 and West of Santa Fe Drive.
At its completion, there will be 9 distinct villages taking an estimated 20 years to complete. Providence Village, Sterling Ranch's pioneer village, broke ground on its first model homes in March of 2017. Construction on Sterling Center, Sterling Ranch's Civic Center, is expected to be completed by the end of 2018. It will have over 20,000 square feet of business space, which will include organizations such as UCHealth, Siemens, the Sterling Ranch Community Authority Board and more. The building?s second component is a more than 3,400 square foot exhibit hall that will have educational venues regarding the community, its surroundings, and its technologies.
Currently, there are 21 models open to the public showcasing many of the homes being offered. Buyers can purchase homes they build from start to finish picking out the lot and the design finishes or they may choose from Quick Move-in homes in the builders' inventory. For a list of what is currently available, please give us a call, we're happy to provide you with the latest inventory.
Here are some highlights of what each builder is offering in Providence Village.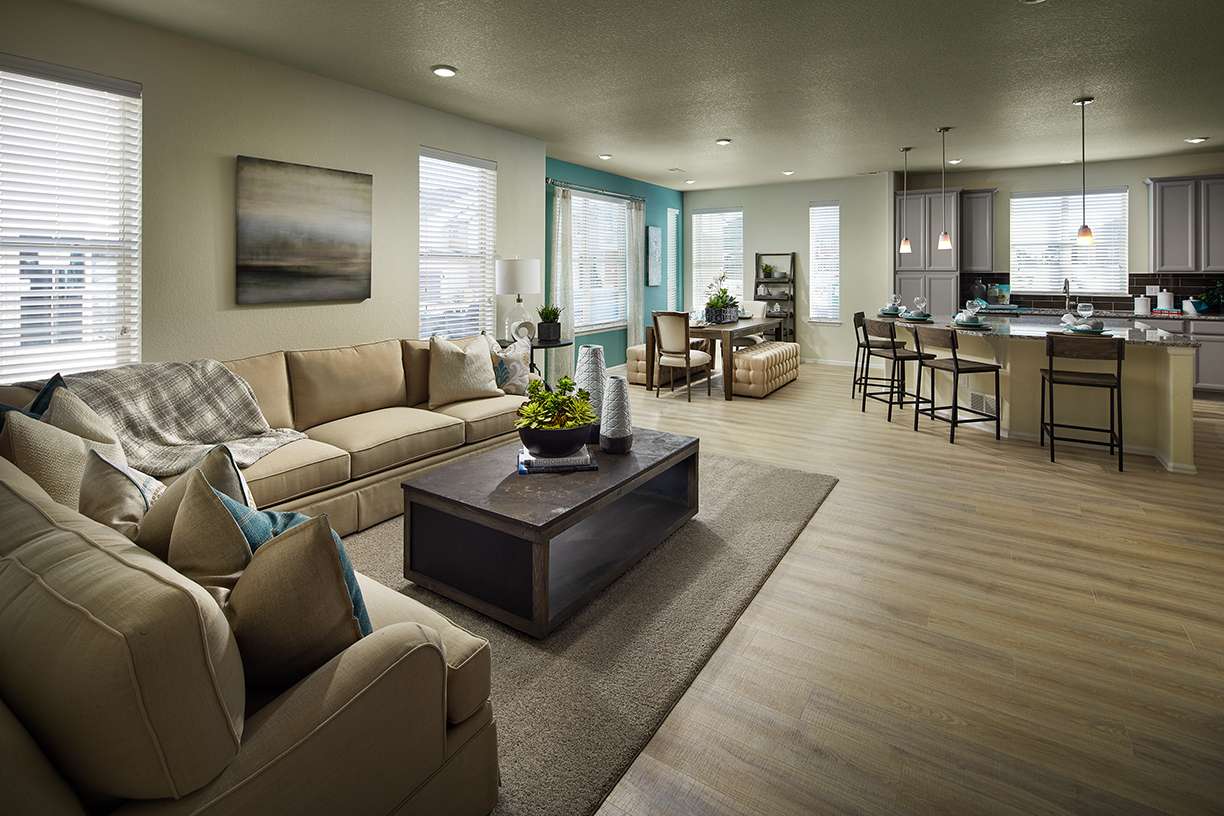 Great Room from Lennar's Ivy Model
Lennar– Everything is included in a Lennar home.
Elements Collection From the Mid $400s
homes range from 1,812-2,302 Square Feet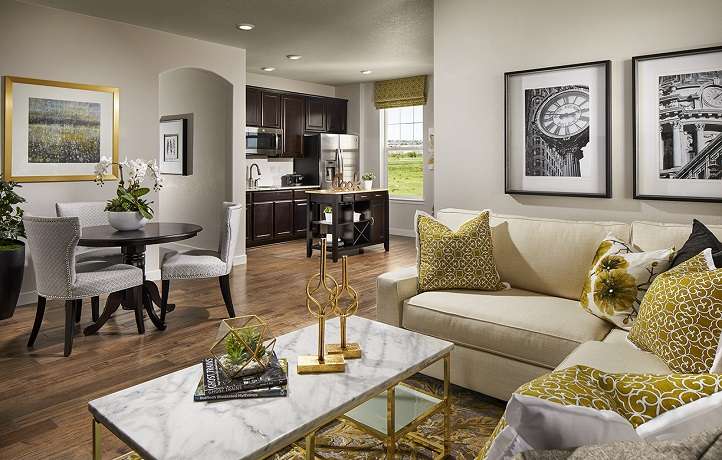 Lennar offers a SuperHome called NextGen that is designed for multigenerational living. These homes come with an attached private suite that has its own entrance, living room, bedroom, bathroom, laundry area and kitchenette. It also features a private retreat off the bedroom and a one-car garage.
Grand Collection From the Upper $500s
homes range from 2,258-4,155 Square Feet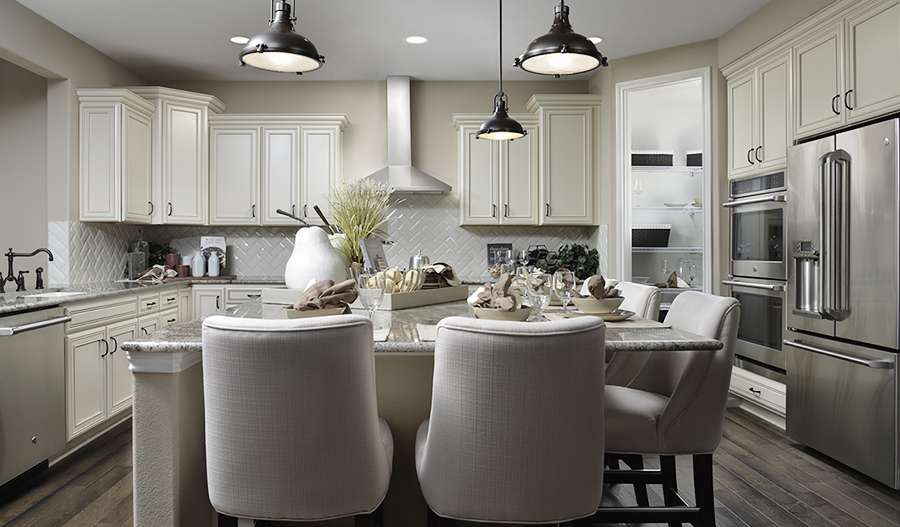 Richmond's Platte Kitchen
Richmond– from the Low $500s
homes range from 1,900 Square feet to 3,200 Square Feet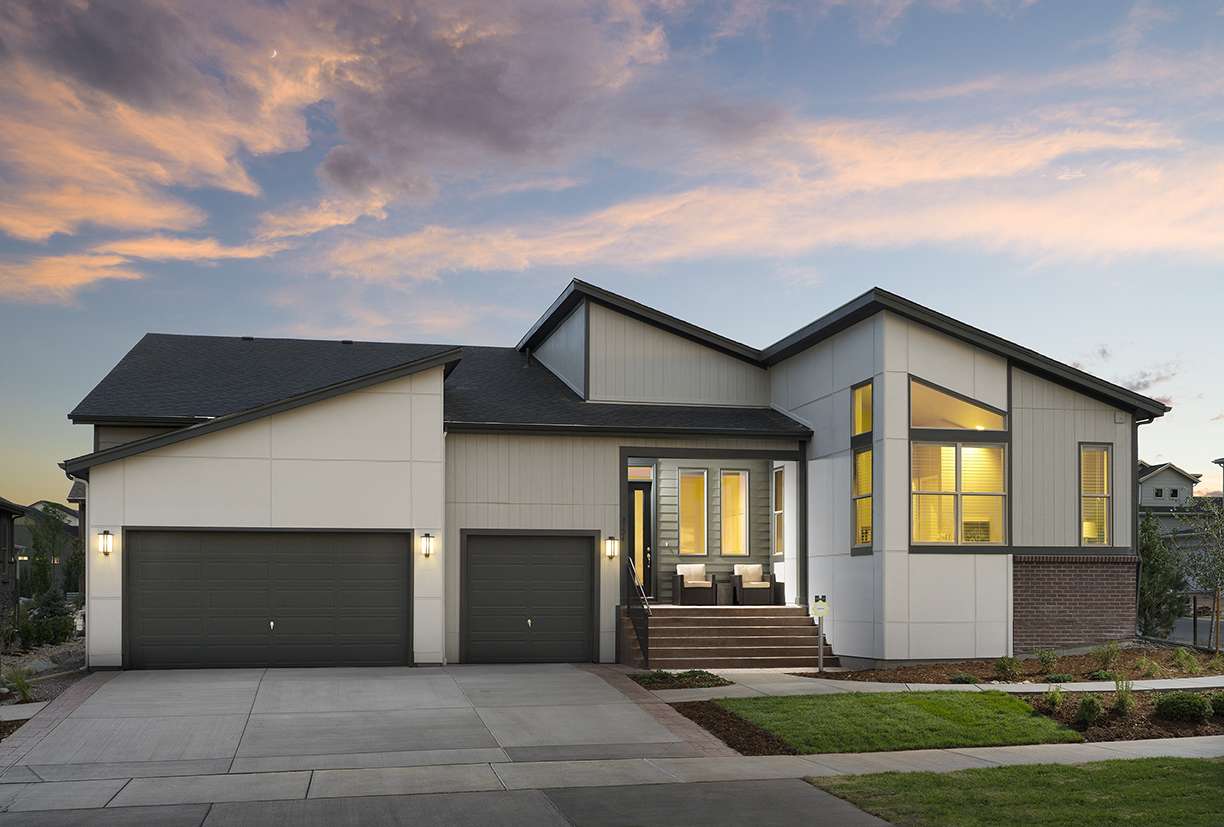 The Cabrillo- one of CalAtlantic's 12 Ranch Style Plans
CalAtlantic– Sterling Ranch's only All Ranch Builder-from the Low $500s
homes range from 2,500 Square feet to 3,400 Square Feet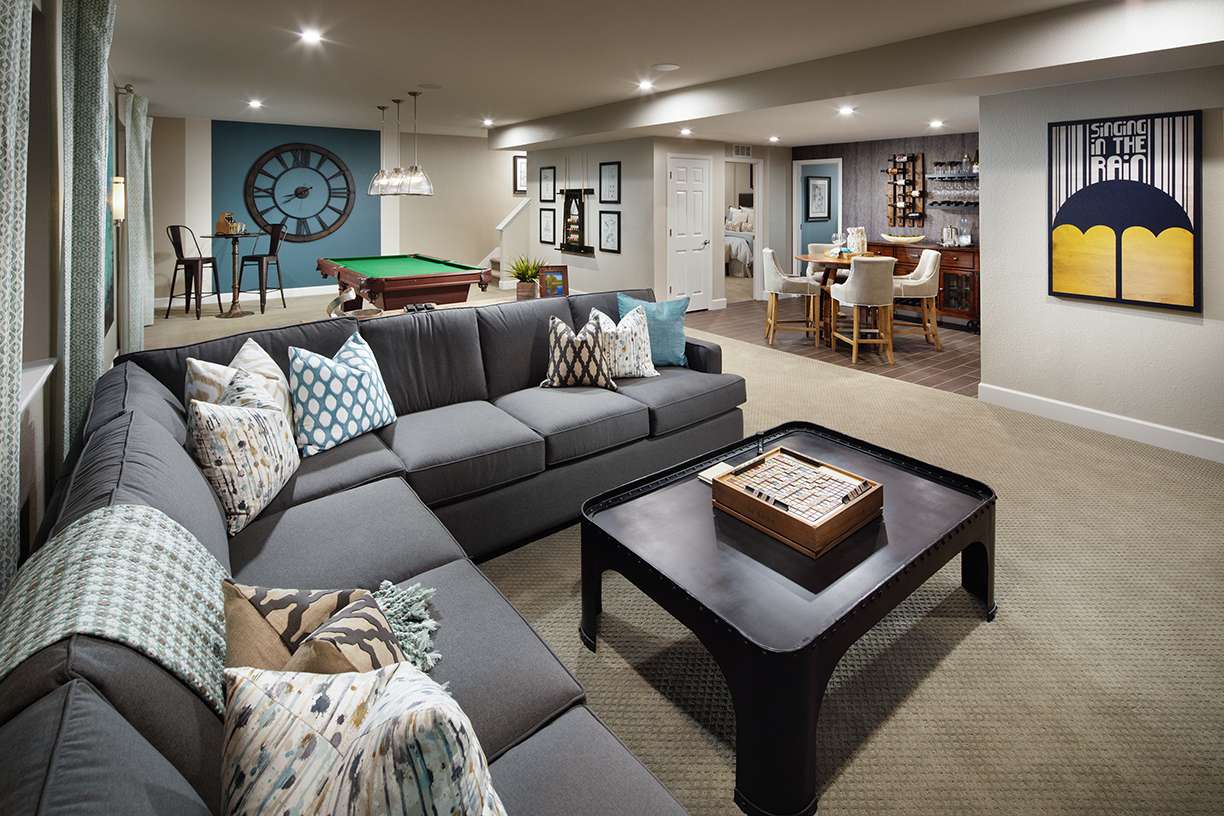 Basement Rec Room from the Meritage's Timberline Model
Meritage– from the Low $500s
homes range from 1,986 Square feet to 3,101 Square Feet
Meritage is one of many builders in Sterling Ranch
offering finished basements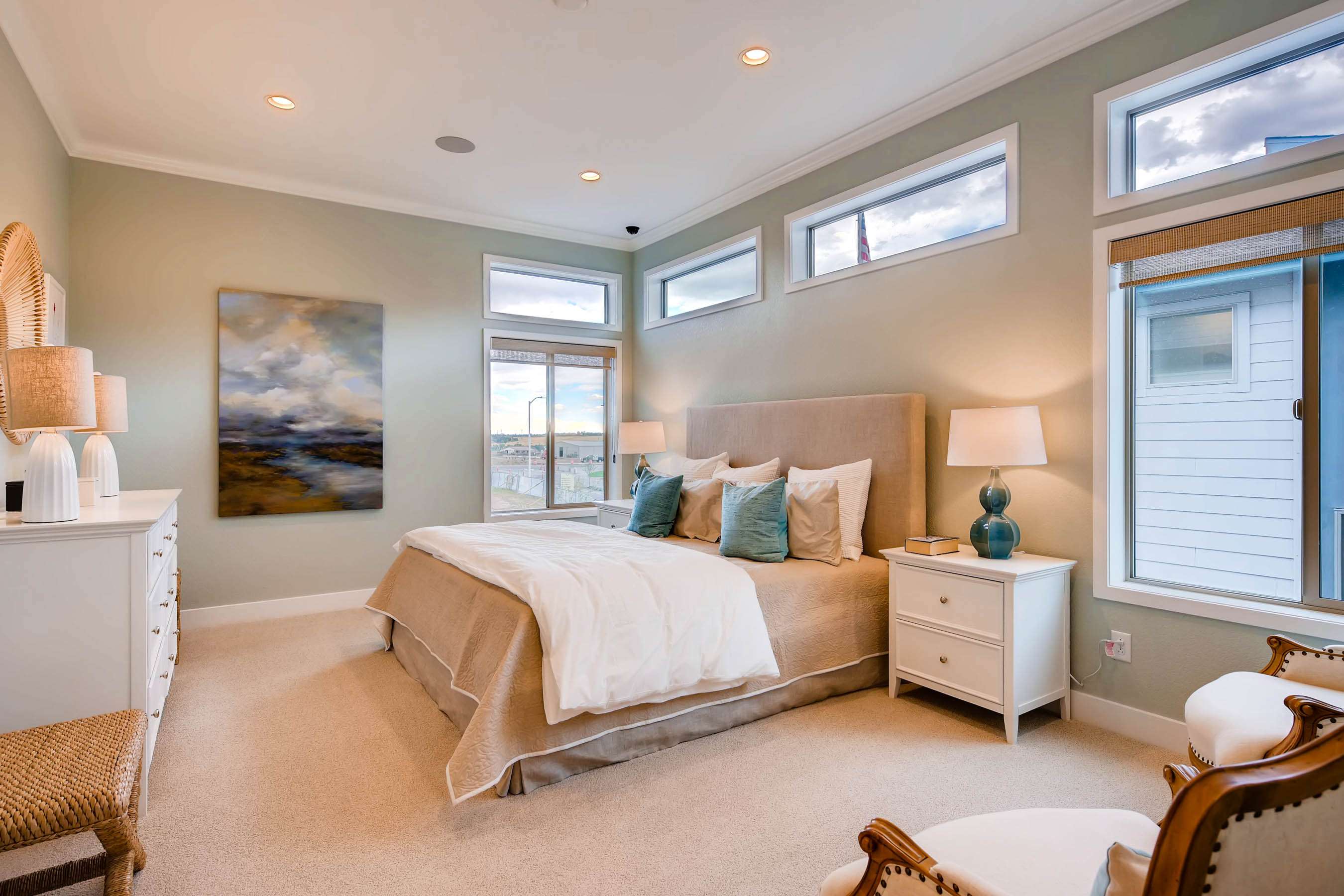 Master Bedroom from Brookfield's Mid-Century Modern Inspired Collection
Brookfield Residential– from the Low $500s
homes range from 1,789 Square feet to 2,159 Square Feet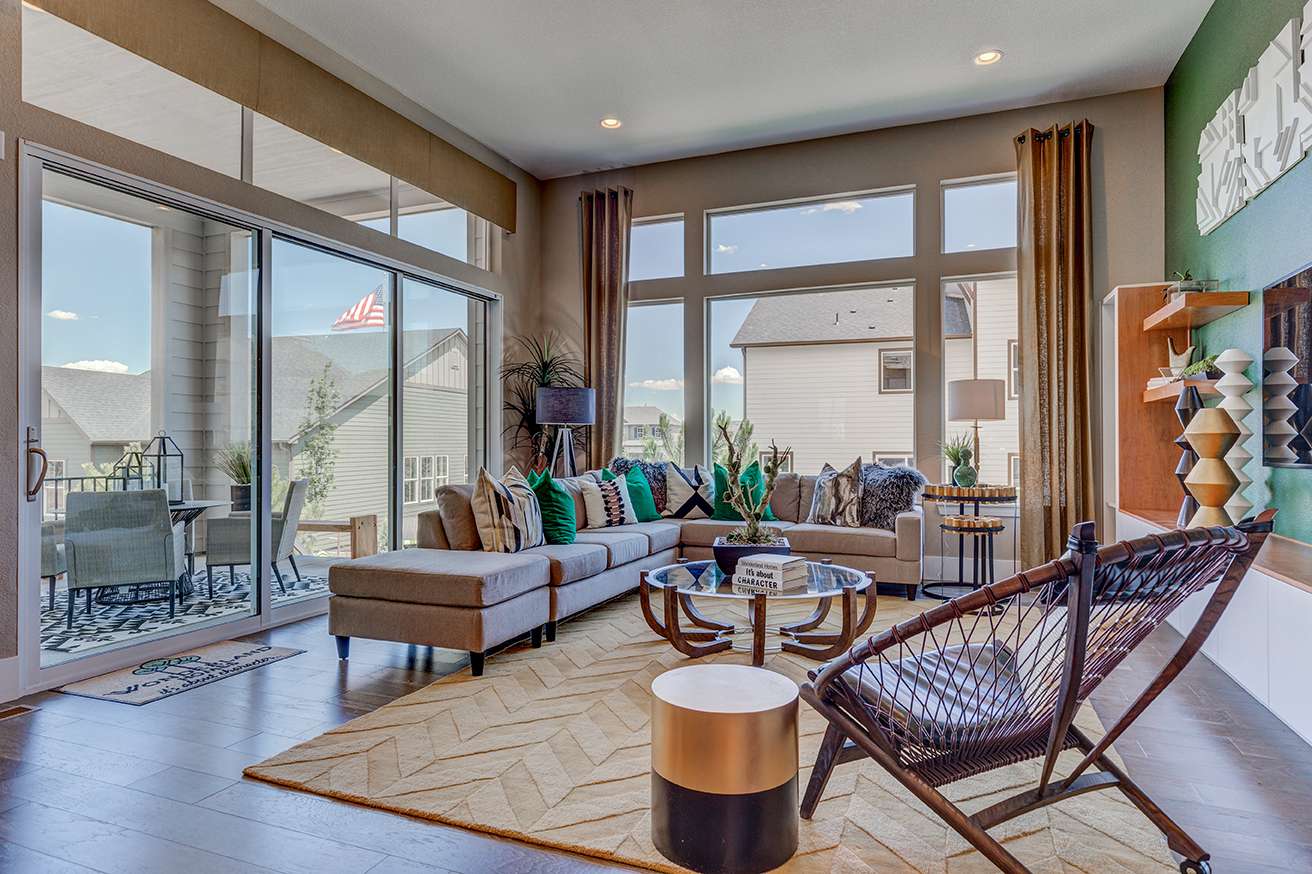 We love the Wall of Windows in Wonderland's Meadowlark Model
Wonderland Homes– from the Low $600s
homes range from 2,800 Square feet to 3,300 Square Feet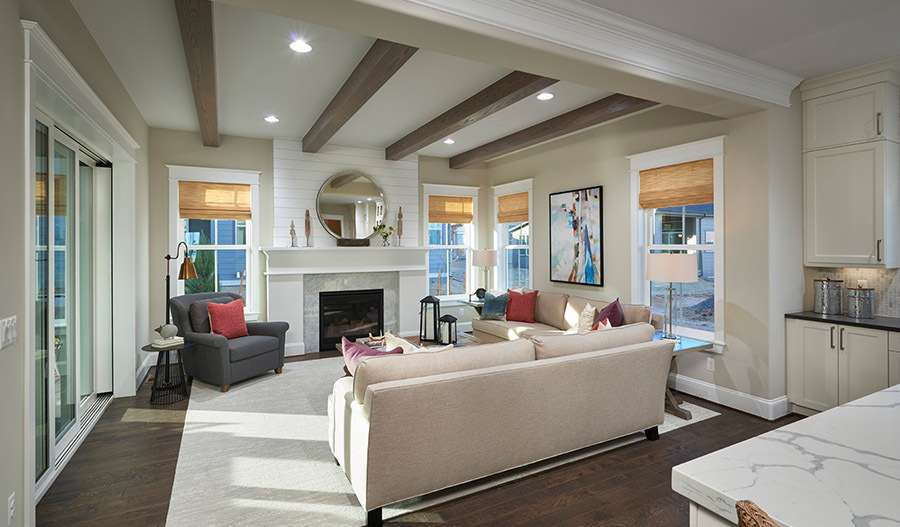 Parkwood's Family Room with Woodbeam Ceiling
Parkwood Homes– offering semi-custom options
from the Low $600s
homes range from 2,392 Square feet to 3,996 Square Feet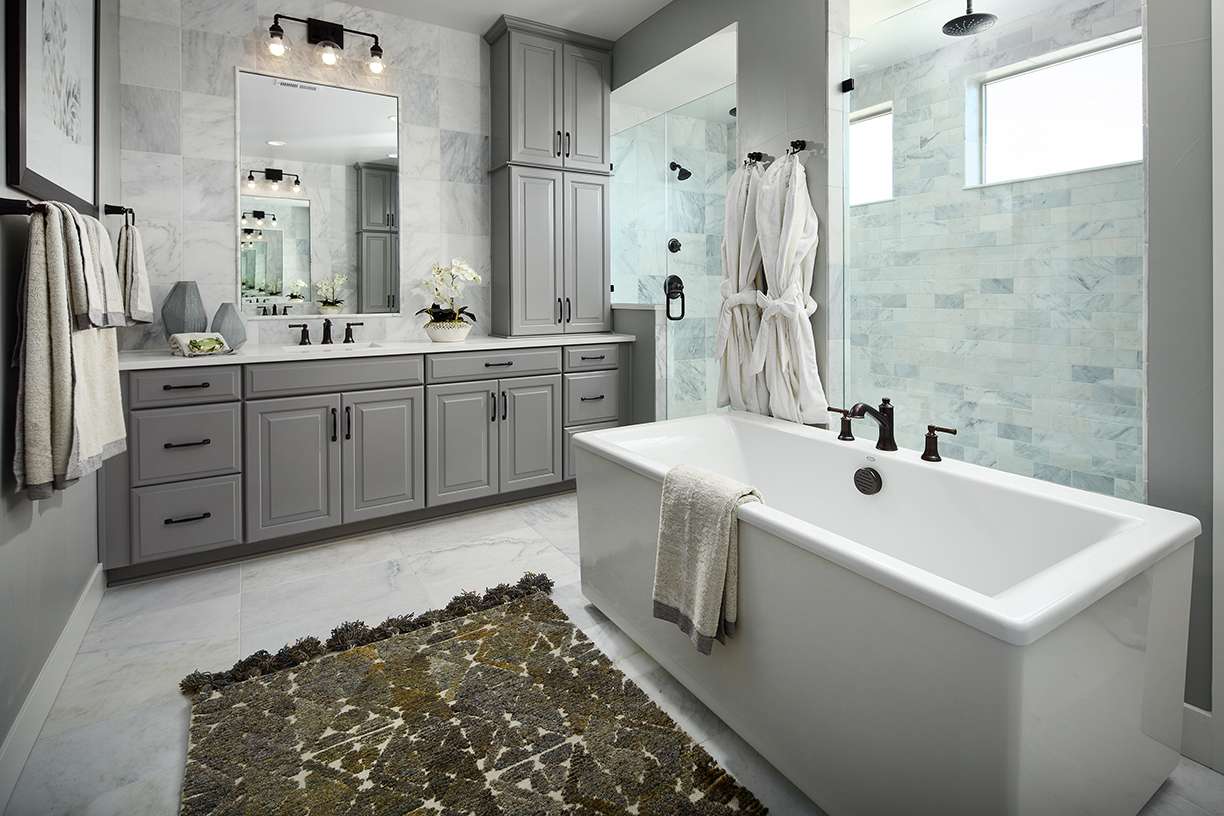 Tub and Walk-in Shower from Taylor Morrison's Aspen Model
Taylor Morrison– from the Upper $600s
homes range from 2,687 Square feet to 3,704 Square Feet
If you're looking for that hard-to-find Ranch, or a home that allows you to live with your in-law yet maintain your privacy, or you're just wanting a new home, call, text or chat with us today, we'll help you sort through all your options.
Click here to see homes currently for sale in Sterling Ranch.
Do you love looking at beautiful homes to get design ideas? Then you'll love our Dream Home of the Week blog. For inspiration click here.